Today I'm crafting with my daughter and we are playing with fabric to DIY Scrunchies that is Harry Potter-themed!
Affiliate links have been used at no extra cost to the reader. You can read my full disclosure here.
DIY Scrunchies: How to Make a Scrunchie No Sew Easy Tutorial:
For our DIY Scrunchies, we used with this stack of HP-themed fabric, a few hair elastics and a pair of scissor.
1. Cut your Fabric
We trimmed our fabric to be about 4.5 inches tall and 22 inches wide. The 22-inch width makes for a nice frilly scrunchie size. If you have lesser fabric, 18 inches wide would also work.
2. Fold the fabric and glue
Starting at the bottom right corner, place your hair elastic and fold the fabric over. Then apply glue along the top edge and start gluing the fabric in place making sure you are not getting any glue onto the hair elastic!
We started this project using this Fabric glue, but that glue needed a good amount of drying time. So we switched to a hot glue gun instead, for faster results!
Slowly glue the entire fabric edge to form a full circle. I found it best to apply glue in sections and taking your time to apply the glue in an even straight line.
3. Turn it inside out
Once your glue has dried, using a chopstick, pencil, or a crochet hook, carefully turn the scrunchie inside out. Again, go slowly, making sure your seam is intact.
4. Carefully glue the seams shut
Once you have the scrunchie inside out, all you need to do is glue the two seams of the circle shut. Fold the edge of the fabric a bit and apply glue onto it, press to seal, and hold in place for a few seconds till the glue dries. (Sorry, my photo went blurry for this step!)
And voila! You can go on creating many more of your own DIY Scrunchies at home.
Find much more Fun For Kids projects on my blog here
TIPS and FAQS
What fabric should I use for Scrunchies?
A Scrunchie can be made from cotton, satin, or velvet fabrics. For your first DIY Scrunchies, I would definitely recommend using cotton fabric, as the fabric will glue in place easily.
How much fabric do I need for a Scrunchie? Can you use fat quarters to make scrunchies?
If you are at the store, you can buy a Fat Quarter of fabric that measures 18 by 22 inches. In one Fat Quarter, you will be able to cut and make 4 scrunchies.
How many scrunchies can I make from a yard of fabric?
From one yard of fabric, you will be able to make approximately 16 scrunchies
How do I make a fluffy Scrunchie?
A fluffy scrunchie has many frills, for that, you want to cut a wider fabric of at least 20 inches. Try using 22 inches or 25 inches.
Can you make Scrunchies without sewing?
Yes! My DIY Scrunchies are all no sew! Use this tacky fabric glue or a hot glue gun for best results.
BLOG HOP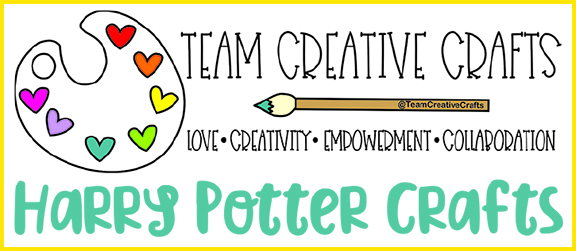 Laura of Me and My INKlings is sharing a Room of Requirement Sign. Located in Hogwarts Castle, it's a room that can only be discovered by someone who is in need. Free SVG File included in the tutorial.
Let Harry, Ron, and Hermione hold your place with a Magnetic Set of Bookmarks created by Laura of Laura's Crafty Life. Click through to discover how to make them.
Show your Hogwarts House Colors with a colorful set of Harry Potter DIY Scrunchies. The full How to Make a Scrunchie No Sew step-by-step tutorial can be found over at Smitha's site, Smiling Colors.
Shani of Sunshine and Munchkins has created a Free Printable Patronus Fortune Teller. Let this game help you discover what your charm is based on your happiest memories.
Download, print, and color Harry Potter Movie Night Printables featuring Hogsmeade Tickets and Gringott's Coins that the kiddos can earn, then redeem. Designed by the clever Justine of Little Dove.
Erica from 5 Little Monsters always keeps us in stitches (LOL!) with her fabulous creations. Free this adorable Crocheted House Elf Dobby by gifting him a piece of clothing. Click through for the complete pattern.
Always remember that the Wand Chooses the Wizard with this cute Harry Potter Mug created by Chelly of We Can Make That. Get the Free SVG file on her website.
No Harry Potter birthday party is complete without a DIY Flying Broom photo booth prop. You will never guess what Debra from Debra Quartermain Designs has made this one out of!
Beth of Creatively Beth is always on the lookout for cute Dollar Tree crafts, including these magical Harry Potter Flying Keys. Easy to create with the free printable wing pattern sheet.
These yummy Chocolate Frog Earrings look good enough to eat but don't because they are made out of resin. Lindsay from Artsy Fartsy Mama has the complete tutorial over on her blog.
CONCLUSION
Scrunchies are all the rage these days, and I love it when a good 90s trend comes back into vogue. My daughter cannot get enough of these scrunchies we love how these themed ones turned out! When you learn how to Make a Scrunchie No Sew at home, you can make them as personalized as you need them to be. And for me, it was a fun crafternoon with my kid 🙂