Love is in the air, and today I'm sharing Free Printable Valentine Cards that you quickly print at home.
You all have loved these Printable Birthday Cards that you can easily print at home, color in and gift right away. If you have no occasion in mind grab these Printable Floral Cards to simply say hello to someone. A popular download around here are these simple Thank you Notecards that can be used anytime.
printable valentine day cards
Below are the 2 printable valentine day cards. Click the download here button below each image. A high resolution pdf will open and you can either save it to your computer or print it immediately. You can pop these into an envelope if you have one handy and make it special.
For best results, print these Free Printable Valentine Cards onto cardstock or any kind of heavier paper that you might have at home. Trim the card to size, fold and write a personal message inside.
printable valentines card #1
The first Happy Valentine's Day card has a rainbow of hearts and I love this simple design.
Click Here: Rainbow Hearts Valentine's Day Card pdf Download
printable valentines card #2
This second card has a bright, modern pixel art design and is simple yet perfect for your loved one! Prop this card (with a sweet handwritten message inside it) on the dresser for Valentine's morning and surprise them!
Click Here: Pixel Heart Valentine's Day Card pdf Download
I have shared so many different cards here on my blog already: , Printable Mother's Day Cards, Printable Father's Day Cards, Printable Teacher Appreciation Cards, Printable Diwali Cards and Printable Christmas Cards.
MORE VALENTINE CRAFTS tO TRY:
BLOG HOP:
Today Team Creative Crafts is sharing a bunch of Love themed projects, make sure to check them all out!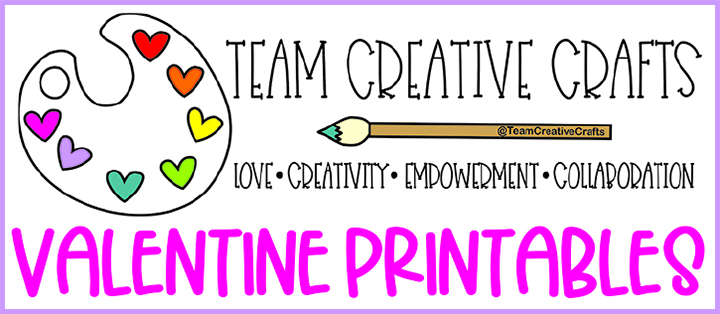 It's always a great idea to tell someone that you care about them and are thinking of them. I'd love for you to leave a comment below if you like these printable valentines cards designs or have tips for using these printable valentine day cards.
Hi I'm Smitha! I live in Minnesota with my husband and two daughters. You'll always find me painting florals in my sketchbook. And I love the sheer joy of making something with just my hands! But my bigger love is capturing it all on camera Read more.
Thanks for stopping by today! If you learnt something from this tutorial, do share this post with a friend or on social media! Tag me @smithakatti #smithakatti I'd love to see what you create!