Make your own personal Pencil Case DIY by following along with these easy step by step instructions and video tutorial! All you need is felt and glue. No sewing!
This Pencil Case DIY, a Felt Craft Tutorial, has bright colors and a summer theme just like these Felt Strawberry Coasters. This Back to School Craft is easy to personalize, requires no sewing and looks so whimsical and cute!
disclaimer: Affiliate links have been used. This means that if you make a purchase I might earn a small commission at no extra charge to you.
Pencil Case DIY Video Tutorial!
On my Youtube Channel, you can follow along the step by step tutorial to make a Pencil Case DIY of your own. Click the video box below or watch here –> https://youtu.be/66w23o_bUs4
How do you make a no sew pencil case?
Today's Pencil Case DIY is super simple because we are not sewing! Thats right- no sewing machine or hand sewing. Instead I'm glueing all the felt with hot glue to make this quick.
There are no zippers to figure out either- instead we'll make an easy flap that closes securely!
DIY pencil case no zipper Step by step:
This project was inspired by something I saw in a magazine a long time ago. It looked so simple that I had to try making my own!
Cut out the Pattern Pieces:
To make this Pencil Case, you will need some felt, scissors, hot glue, and a square ruler
First, cut out the pattern pieces: Back (12 by 3.5 inches), Front (8.5 by 3.5 inches) and Strap (0.5 by 8 inches). You will need two of each piece, one for the outside and one for the inside. I am using a Pink felt for the outside and a Yellow felt for the inside.
Next, apply hot glue to adhere both the Front pieces together. Similarly, apply hot glue to adhere both of the Back pieces together as seen below. This just creates a sturdier reinforced piece of felt that will make our Pencil Case DIY last longer.
You should now have just two pieces, a longer Back piece and a shorter Front piece as seen below.
Glue them together.
Now glue the Front and Back pieces together to create a pocket. First apply a little glue to the bottom edge and just a bit of both sides of the inside of the Front piece. (image 3). Then quickly place the Back piece on top (with the inside facing down) align the bottom edge and press down firmly (image 4). Next, apply more hot glue along the sides of the Front piece (image 5) and press down firmly to create a pocket (image 6)
Attach the strap.
Close the Back onto the Front of the pencil case and place strap in position (image 8). Carefully flip over, and apply hot glue to the back of the strap on either side, fold and press into place. And voila, the flap now fits under the strap and will be securely held in place.
Finish it off with some cute embellishments!
The beauty of this Pencil Case DIY is that you can make it in any color you want and embellish it on top with anything of your choice! The possibilities are endless.
pencil case DIY no sewing no zipper no hot glue
If you want to avoid using hot glue, no worries, I have you covered! I show you how with a felt glue project here –> How to get felt to stick together! The best glue that works
Blog Hop: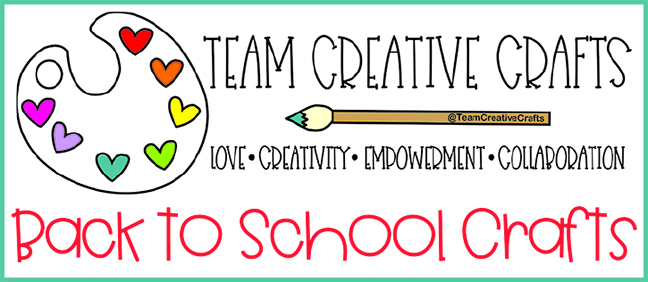 Laura from Me and My INKlings has created a set of hand drawn and water colored Back-to-School Lunchbox Notes that are available to download for FREE!
Shani from Sunshine and Munchkins is sharing the CUTEST Back-to-School Pencil Wreath created from yarn. Fun for the classroom door!
Download and print a set of Lunchbox Notes to inspire the kiddos during back-to-school time. Head over to Laura's blog Laura's Crafty Life to get the Free Printable.
Justine from Little Dove has created the cutest DIY Apple Garland from book paper. What a cute way to decorate the classroom for back-to-school.
Make a fun Friendship Bracelet Style Bookmark for your bestie with this step-by-step tutorial from Erica of 5 Little Monsters.
Kelsey of Poofy Cheeks is sharing a fun DIY Pencil Sign with the FREE SVG Cut File. The perfect back-to-school teacher gift.
Make sure to keep all the kids school supplies organized with Personalized Notebooks. Get the editable sublimation files from Katie over on the Crafty Blog Stalker.
Chelly from We Can Make That is sharing the cutest SVG Cut File to create a Home Sweet Classroom Clipboard for that special teacher.
Create a fabulous back-to-school gift for your new teachers with Lindsay's Resin Pencil Keychain tutorial over on her blog Artsy Fartsy Mama. Makes the perfect backpack charm too!
Beth from Creatively Beth is channeling her inner Dad Jokes with a set of Punny Lunch Notes to keep the kiddos in stitches.
Hydration is super important, so do it in style with Personalized Water Bottles. Marissa of Rae Gunn Ramblings has the full tutorial on her blog.
More Felt Tutorials:
Conclusion:
I love notebooks and pens, Back to School Season is my favorite season of all! Making this easy Felt Pencil Case DIY was a fun project that made me super happy. The steps are pretty easy and anybody can make one!
You can also add some fun embellishments to make your pencil case more unique. Try adding a zipper pocket, a magnetic closure, or even a button.
Thank you for stopping by today friend. Follow me on social media to see my latest posts!
Tag @smithakatti #smithakatti on social media!