Sweater weather is here! Time to bring the season into our homes with all things cozy. I love this simple Pumpkin Wreath idea, it is the perfect Fall Craft. Just like my DIY Fall Wreath Dollar Tree, this one is easy to make, and colorful with a modern bold vibe. You can easily customize it to suit your color scheme!
After a busy outdoor summer, I love how the autumn days slow down. There is more time to make art and I enjoy these Leaf Drawing Step by Step Tutorial, Pumpkin Drawing ideas, Painted Pumpkin Ideas- No Carving Required! and Easy Dollar Tree Pumpkin Makeover Ideas.
What you will need to make your Pumpkin Wreath
You can use any small-sized pumpkins- fabric, velvet, or paper. Here is a list of the exact pumpkins I used in my wreath today.
How do you make a wreath out of little pumpkins?
Pull apart the Velvet Pumpkins, to create individual pumpkin picks.
You should have a few different sizes of pumpkins to keep the wreath interesting.
Arrange and insert the pumpkin picks onto the wreath form.
Flip the wreath form over carefully and twist the picks tightly together.
Fill in any blank space with the smaller Pumpkin Picks to create a unique modern Pumpkin Wreath for your front door!
How do you attach a pumpkin to a wreath?
Since the Pumpkin picks came with a stalk affixed, I just used that stalk itself to affix it to the wreath form. There is a metal wire running through the stalk so you can easily twist the stalks into place, much like a twist tie. I loved the ease of this, and since there was no hot glue, I can easily remove the pumpkins to reuse the wreath form or use the pumpkins elsewhere next year as needed.
YouTube Video: Pumpkin Wreath Tutorial:
Watch the video: https://youtu.be/5TPDYUfMnd0
Blog Hop:
My friends at Team Creative Crafts are all sharing Pumpkin Themed Craft Tutorials, make sure you check them all out!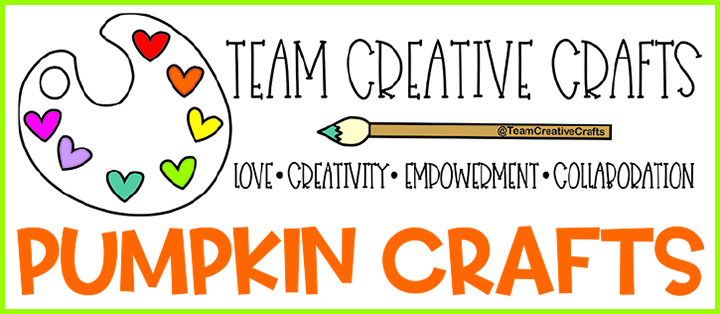 Tips
To create a modern intentional look, I used just two colors of pumpkins creating a stark contrast that is eye-catching. You could easily make this with just black and white pumpkins for a Halloween craft.
I love the look and feel of the velvet pumpkins, but you can use any pumpkins you have for this wreath. Dollar Tree Craft Section has many pumpkins to choose from too!
You can make this Pumpkin Wreath in full circle too instead of half-moon shape!
Hi I'm Smitha! I live in Minnesota with my husband and two daughters. You'll always find me painting florals in my sketchbook. And I love the sheer joy of making something with just my hands! But my bigger love is capturing it all on camera Read more.
Thanks for stopping by today! If you learnt something from this tutorial, do share this post with a friend or on social media! Tag me @smithakatti #smithakatti I'd love to see what you create!