Hello friends! Today I'm unboxing a super cute Rock Painting craft kit and then get painting with my kids. Painted Rocks are a great way for kids to try their hand at art, and they can then share their creations by leaving them in parks for others to find and enjoy.
As a mom, the best kind of afternoons are when I get to Craft with my kids. It's messy, loud but filled with so many giggles and story sharing. Core memory making at it's best. It doesn't matter how it turns out- the joy is in the making. Make sure to check out these tutorials too How to Make Cinnamon PlayDough at Home, Sponge Painting for Kids, and Scrape Painting
ALSO READ: 10+ of the BEST Virtual Art Classes to take with your kids
What Do I Need For Rock Painting?
You can buy rocks to paint online, or use a craft kit like these by Creativity for Kids. We used a kit, and it comes with everything you need- the rocks, paints, paint brushes and even shiny dot transfers.
SHOP HERE: Rock Painting Kits: Buy at Michaels | Buy at Amazon
What Kind Of Paint Do You Use On Rocks?
Any kind of acrylic paint will work best on rocks. If you find outdoor craft paint that will be a great option too. A mess free way to decorate these rocks is to use Paint Pens.
How Do You Prepare Rocks For Rock Painting?
Wipe or wash the rocks clean and they are ready to be painted on!
I did some dot painting on the rocks, and it was super fun.
What Do You Spray On Rocks After Painting?
You can use a thin layer of this spray sealer onto the finished Rock Painting. This will make them weather proof but also give a slight shine.
BLOG HOP
Today my friends at Team Creative Crafts are all sharing amazing Camping crafts!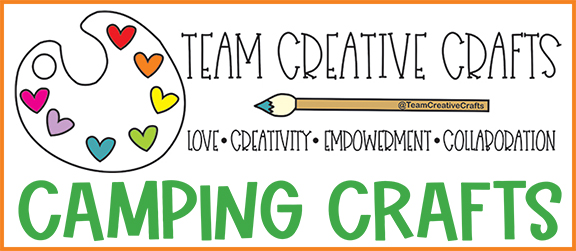 Rock Painting YouTube Video:
Enjoy our Rock Painting Video- my kids and I enjoyed this kit so much! https://youtu.be/SmYsq2UIlTs
Tips for Rock Painting:
Always protect your table surface while painting rocks.
This would be a great outdoor summer activity- all you need to do is carry a few paint pens with you.
Try painting these rocks to look like flowers or animals for a fun twist!
In conclusion, Rock Painting is a fun way for kids to try art at home and then share it with the world. Make sure to check before leaving these Painted rocks in a National Parks. We love finding rocks like these on our walks!
In a shopping mood? Check out all of these Craft Kits that are all fun to make!
Hi I'm Smitha! I live in Minnesota with my husband and two daughters. You'll always find me painting florals in my sketchbook. And I love the sheer joy of making something with just my hands! But my bigger love is capturing it all on camera Read more.
Thanks for stopping by today! If you learnt something from this tutorial, do share this post with a friend or on social media! Tag me @smithakatti #smithakatti I'd love to see what you create!