Learn how to Tie Dye shirts at home and my tips for throwing a colorful Tie Dye Party! Let's get started!
Affiliate links have been used at no extra cost to the reader. You can read my full disclosure here. 
WHAT TIE DYE TO BUY:
Whether you are throwing a party or just dyeing a few T-shirts at home, I definitely recommend buying a pre-made kit like this CreateBasics Tie Dye Party Tub or this Tulip One-Step Tie-Dye Party Kit. The kits come with everything you will need- the fabric dye, of course, bottles for mixing the dye, rubber bands, and disposable gloves.
Best t shirts for tie dye:
To get the best dyeing effects, you want to try and use 100% cotton T- shirts. The fabric of these T shirts absorb the dye colors nicely. The Hanes Girls' Cotton T-Shirts, Gildan Kid's Short Sleeve Crew T-Shirt, Gildan Men's G2000 Ultra Cotton Adult T-Shirt, Gildan® Short Sleeve Adult T-Shirt, and Soft Crew Neck Adult Unisex T-Shirt by Make Market® are all great T shirts to tie dye.
HOW TO THROW A TIE DYE PARTY:
BUY WHITE T SHIRTS: To prep for the Tie Dye Party, I purchased white T-shirts in a variety of sizes. Even though this was a kid's party, I had enough adult sizes T-shirts as well, should any of the parents want to make a shirt of their own (spoiler: all the parents wanted to make shirts of their own too!)
HAVE LOTS OF PLASTIC BAGS FOR THE FINISHED SHIRTS: Once the T-shirts have been dyed, the dye needs to sit for at least 12 hours or more. So make sure you have enough plastic bags for each T-shirt! This way the guests can each take their T-shirts home at the end of the party. I also printed (and later texted each of the moms) instructions on how to set the dye with vinegar.
PREP WORK SURFACES: Our party was outdoors, so we used the patio table, which I covered with a plastic table cloth.
HAVE YOUR GUESTS DRESS TO PLAY WITH COLOR! I made sure to mention this in the invite too.
DECORATE: with a rainbow of colors or a Tie Dye Party set like this one.
how to tie dye shirts
Here are the instructions on How to Tie Dye shirts.
Add water to your bottles with the dye powder, following the instructions of your kit. Mix thoroughly.
Next, use rubber bands to tie your T-shirt. Seen above is the popular and colorful Sprial tie, where you pick up your T-shirt at the center of the front, and then add rubberbands at equal intervals. The rubber band will resist the dye and add streaks of white in a fun pattern!
Apply the fabric dye by squeezing the color onto the T-shirt.
You can use one color, three colors, or really as many colors as you wish!
Apply more dye than you think is necessary, you want the color to seep into the layers of folded T-shirts nicely.
Now you need to let the dye sit on the fabric for at least 12 hours, preferably 24 hours. Ensure that the T-shirt remains wet/moist during that duration by wrapping it up tightly in plastic.
TIE DYE PARTY TIPS:
Have parents help with the rubber bands and tying of the T-shirts, but let the kids apply whatever dyes they want! The happiness on their faces was everything!
Besides the plastic table cover, I also saved up a pile of paper bags, so each kid to use the paper bag to catch the excess dye from their T-shirts. This made for easy clean-up!
TIE DYE HOW TO SET COLORS WITH VINEGAR
To set your color better, soak the dyed garment in vinegar for about 30 mins.
Then slowly, remove all rubber bands.
Rinse out your tie dye shirt completely under warm running water till the water runs clear.
Wash the T-shirt in the washer with a small amount of detergent and warm water. Let air dry or in the dryer.
See How tie dye shirts turned out!
Once you learn how to tie dye shirts, you won't want to stop at one! The reveal is the best part, as you never know what design or colors you will end up with!
Tie Dye Color ideas:
There are endless Tie Dye Color Ideas that you can explore. Rainbow is always a great option. Try this glitter and glow-in-the-dark dye or Celestial colorway for something new.
BLOG HOP
Hop along the links below to enjoy many more Tie Dye themed craft ideas from Team Creative Crafts! All projects are Tie Dye -themed but so different and unique!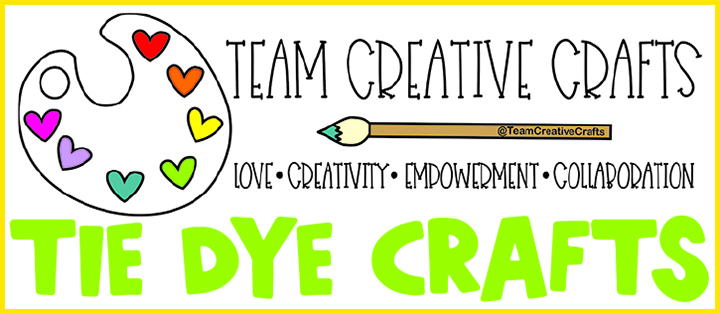 Smitha from Smiling Colors is sharing Throw a Tie Dye Party- How Tie Dye Shirts a perfect Summer Craft 
CONCLUSION:
Learning how to Tie Dye a shirts never gets old! There are so many different ways to tie the shirt (spiral, crumple, stripes, and even ice tie dyeing!) each with its own unique result. A fun family craft win!
If you recreate this tutorial and share it on social media don't forget to tag me! @smithakatti #smithakatti. For yarn projects, find me at @smittenbyyarn #smithaknits #smithacrochets
Thank you for being here today and spending some creative time with me friends learning how tie dye shirts. Stay a while longer and explore more Kid Craft Ideas!